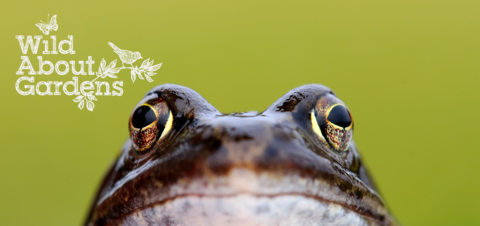 Let's jump right in
The Wildlife Trusts and the RHS set up Wild About Gardens to celebrate wildlife gardening and to encourage people to use their gardens to take action to help support nature. Many of our common garden visitors – including hedgehogs, house sparrows and starlings – are increasingly under threat. But together we can make a difference.
Help us turn the UK's 24 million gardens into a network of nature reserves, and invite our wildlife back.
Go wild for ponds!
This year we're going wild about ponds! Adding a pond is one of the best things you can do for wildlife in the garden. And each pond is part of a bigger picture – together we can create a network of habitats for our threatened freshwater species, and the many insects, birds and mammals that depend on them.
Make a pond, whatever size you can manage and add it to our map to help inspire others.  Download the booklet for top tips on creating your pond and see our FAQs here.
Pledge a pond for wildlife
Got a pond or building one this year? Fill out the form below and your pond will appear on our map in the next few days.
(If you entered the pond map competition last month then watch this space - we'll be getting in touch with the winner soon!)
More ways to help wildlife

Meet pond expert, Jules!
Jules knows A LOT about ponds. Watch the video to find out more about his special pond project...
Container pond competition results!
How many of you have up-cycled a container into a pond...
We ran a competition during August to find out exactly that! Thank you to everyone for getting involved. We have contacted the winners and you can see their creative ponds below!